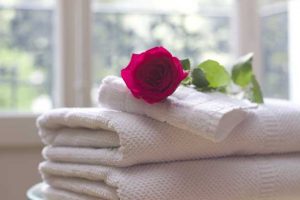 Adrenaline, effort, high-performance…sweat, stains! So what? As long as you turn to our services at Curatica the stains and the odours stand no chance. Curatica washes and sanitizes the towels and the robes handed to the clients of your fitness centre, so that the fresh and clean clothing could make your clients even happier while enjoying their exercises.
Due to the latest technology and the extremely efficient and strong detergents that we use, the fabrics maintain their aspect and they also feel smooth to the touch. The colours also maintain their original brightness. Even the dirtiest equipment will look as new after the cleaning. During the process of cleaning/ washing/ sanitizing, the towels and the fitness robes ( including the taking from and the delivering back to your place) we strictly follow the necessary stages for a perfect result:
1. The towels and the fitness robes are pre-inspected and labeled according to the nature of the fabric, the colour and the visible stains.
2. The stains are pre-treated, according to their nature, with agents of the best quality.
3. The clothings are washed in washing machines fitted with the latest technology, able to use a wide range of programmes for customized washing, according to the fabric and to the ammount of dirt on it. We use efficient but environmentally friendly detergents.The secret of getting perfect results in the cleaning process is that we use quality products and a highly balanced mixture of the active agents in our detergents.
4. The towels and the fitness robes are then carefully dried so that the fabric is not frayed or bleached. Our dryers are equipped with functions able to control the humidity and the temperature during the drying process.
5. The towels and the fitness robes are then folded, according to your wishes, so that they can be directly stored in your special lockers.
For the freshness and the kindness that one fully deserve after long effort in the gym, count on Curatica, a reliable helping hand in keeping your place clean!
For any further details you can contact us by e-mail, phone , Whatsapp or at our office.